Some homeowners approach home decorating as a constant challenge to keep up to date. Others consider changes on rare occasions to spruce up a long-loved but slightly shabby space. As work, school, and other tasks reconfigure, many search for ways to make living areas multifunctional while retaining a personal sense of style and comfort. Using subtle to bold shadings of cutting edge color can be a quick and reasonably priced way to breathe new life into your dwelling while enhancing functionality.
Nurturing Neutrals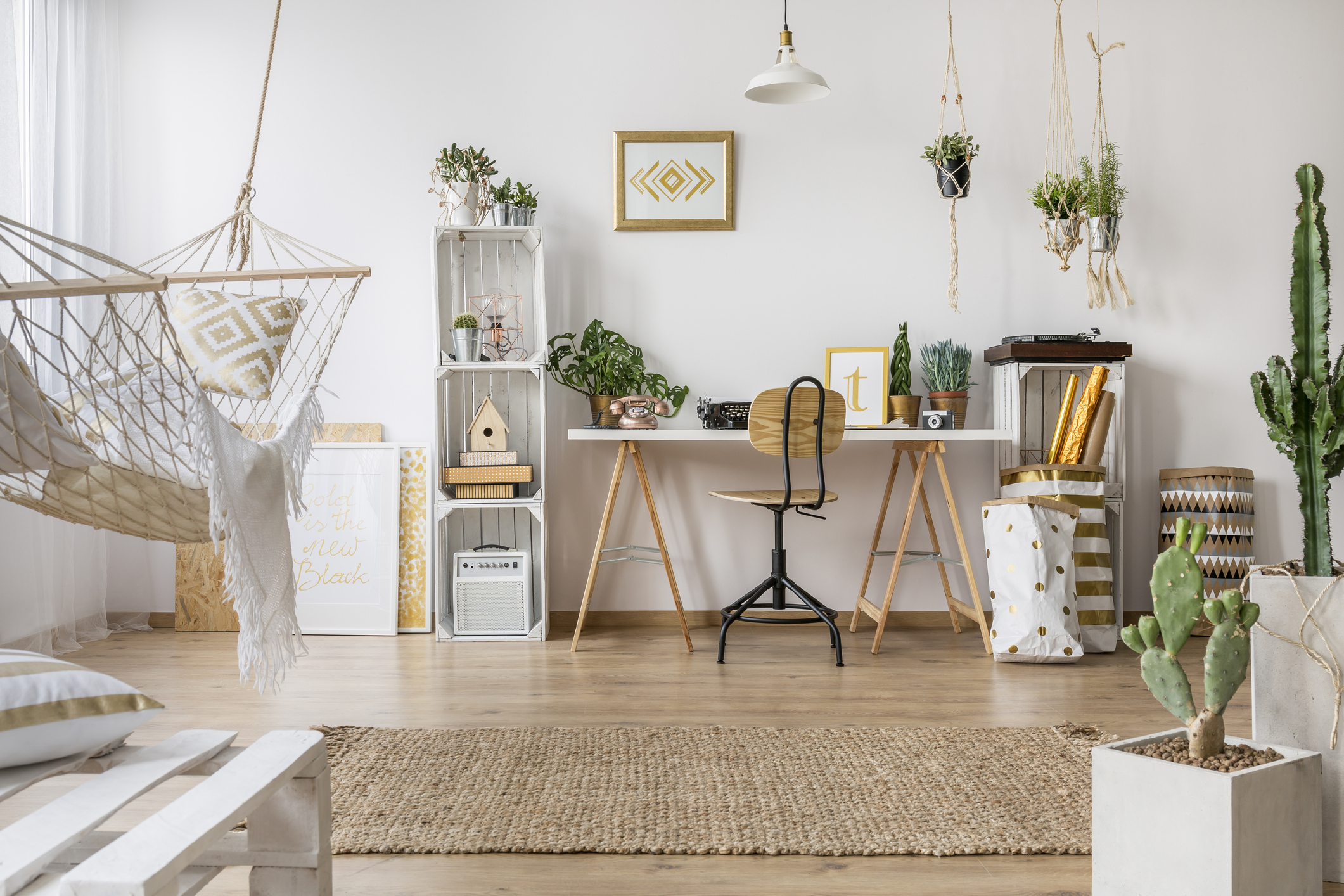 Coming home to a calm and serene space allows you and your family to settle in, rest, and rejuvenate for tomorrow's stresses and tasks. Using neutral shades supports a peaceful transition from the busy outside world, welcoming your loved ones for both times together and contemplation. Neutrals generally run a range from nearly white to gradually deepening hues as the undertones increase. The palette of grays and beiges take on a cool or warm feel, your choice determined by personal preference, and how a neutral color wheel works with your current furnishings and valued accent pieces. Paint a wall, switch out a window treatment, invest in a sectional, or add a runner or area rug in one or more coordinating neutrals to clear the way for a new and meditative ambiance.
Enter Earth Tones
More saturated and often making use of textures, rich and robust design fundamentals in earthy hues complement neutrals. They bridge the gap between bold primary jewel tones and pastels, providing intense yet inclusive-feeling washes of color. Earth tones include deep forest and mossy greens, browns and taupes, burgundies, and coppery burnished golds and oranges. These colors embrace natural materials frequently found in architectural elements, household goods, and furnishings such as wood, brick, and metals. Earth tones add warmth and a sense of connection, making your home cozy and welcoming.
Verdant Variants
Green hues and tones provide freshness and a feeling of sustainability when used in home decorating. We see greens as cool neutrals and warm earthy options, but they also soar when displaying as bright kelly and delicate mint. Consider providing the ultimate natural green accent with low-maintenance live greenery — vining, succulents, or tried and true traditionals like fig or rubber trees or snake plants. Wall and window covering options abound with green, leafy motifs. Coordinating throws, linens, and bedding in refreshing green shades are decorating perennials.
Ponder Pastels
Interior design often includes pulling differing elements together, and pastels are a unique and subtle way of offering that integration. If your predominant colors tend toward neutral or earthy greens, from bluish sea green to olive or mossy, remember that pinkish tones from lilac to peachy corals are complementary. Rather than thinking that these colors always push a feminine vibe, realize that they also bring a soothing and embracing feel to your surroundings.
Fade to Black
If neutrals, pastels, and early tones somehow fall short of your home design vision, do not question your instincts. Think about introducing black as the main element, bold accents, or defined spaces. Using black in a home setting is not off-limits. Concerns about dark colors making areas seem confined, or smaller are common, but solutions are readily available. Soften black with furnishings, window coverings, or flooring in gradients or outright contrasting colors. Make a dramatic and elegant statement with black in one room, or add it as a uniting theme throughout your abode.
White and Black as Design Partners
Black and white might seem like decorating extremes, but designers pair these classic choices regularly, to beautiful and striking effect. Textiles and flooring in either black or white, or an inspired patterned combination of checks, herringbone, stripes, dots, circles, squares, or a multitude of other geometric or sinuous shapes and designs awaits your bidding. Black and white effects are always in style and give you the opportunity to make a powerful and personal design declaration.