Many say there is little new under the sun, but trending home interior design ideas twist that cliche by infusing excitement and surprises into a wide range of familiar applications. Whether the change is in color, material, or use, thinking outside the commonplace and traditional delivers different, fun, and fascinating results for homeowners looking for something familiar yet fresh in home decor.
Curl Up in the Lap of Luxury
Canopy beds have pampered and protected slumberers for hundreds of years. Up-to-date takes on this long-esteemed bedroom staple require careful consideration of the bed's size or the tester frame. Withdraw within the seclusion, choosing fabrics you love to cover the frame and drape down the sides of your hideaway. Go light with a suspended tester alone, swirling beautiful and breezy textiles around a free-standing bed. Or embrace the tradition with a full-fashioned canopy frame and four posters attached to luxurious mattresses, surrounded by elegant draping. Remember how magical a canopy feels to the younger set, considering when upgrading bedrooms for children who yearn to have a stage for their dreams to come true.
Show Off Your Velvet Swag
What is more romantic and posh than velvet? Furnishings upholstered with the soft and plush fabric crafted today provide the perfect balance of comfort and elegance. Deep, bright, and daring colors take velvet up a notch, from shimmering, pearly taupes to clear blues, sweet pinks, and spicy burnished oranges and terra cottas. Consider the purchase of a singular velvet sofa, and build an exuberant room around it.
Show Minimalism Out the Door
The drama of a canopy bed, especially one where 21st-century velvets hold sway, illustrates a rekindling of an abundant trend toward home interior design. Stark, pared-down aesthetics had their day — now make way for maximalism. Colors, layers, and many-textured materials all vie for attention. The look might border on chaotic, but skilled interior designers make it all work together richly and robustly. Reach out for more, reaping the benefits when you discover your eclectic style.
Nurture Your Budding Interior Design Approach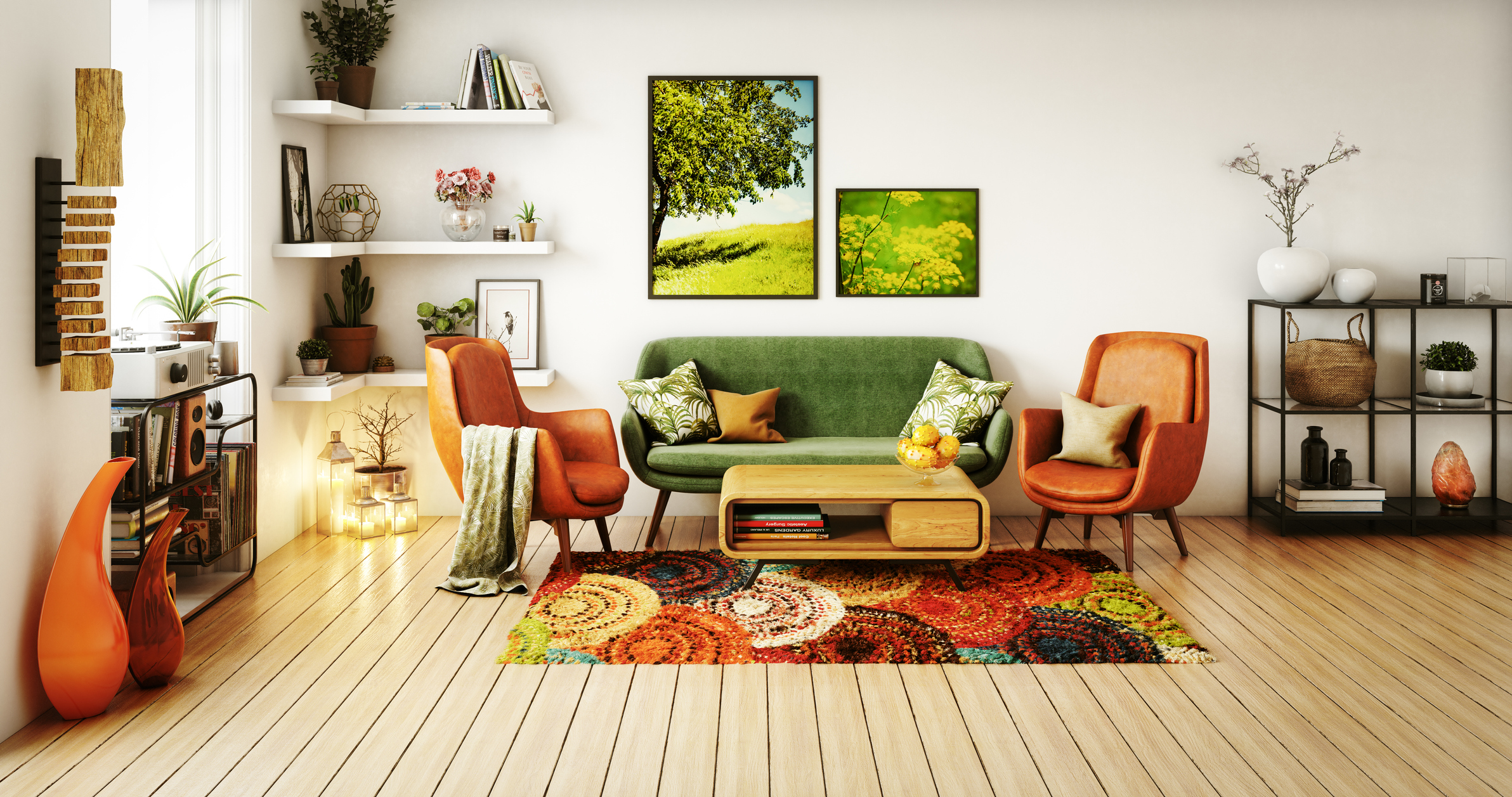 Welcoming a more well-rounded home decor vision can take you in unexpected directions. After years of austere and forbidding design, gather armfuls of floral fabrics and tend a garden on your wall. Contemporary renditions of the flowery upholstery, cushions, and wallpaper of yore dazzle in unrestrained and contrasting bold colors. The botanical motifs are often abstract but still vivid and verdant.
Color, Color Everywhere
The recent past's spare aesthetic is never more firmly in the rearview mirror than when considering current tiling trends. Bright and rich colors dash across backsplashes and walls, banishing boredom in these essential rooms of your home. Intriguing textures and inspired patterns create one of a kind effects to craft an innovative treatment of hardworking surfaces.
Pick and Mix Metals for Contemporary Design
Precious and flexible metals in silver, tin, gold, and copper are at the forefront of interior design. Add a rustic or elegant touch with decorative items, or consider using permanent installations of metals as fixtures and shiny, matte, or textured surfaces. Seek the guidance of a professional designer to achieve the balance needed when using these singular materials.
Geometric Equilibrium
The intention of interior "design" implies a plan-driven progression. Use patterned decorative elements mindfully, according to the script developed with your designer, within the broader vision of the impression you want to establish. Have fun with geometric patterns, but avoid overwhelming the eye and losing the sense of individuality you strive to achieve. Carefully distribute your chosen geometric patterns, remembering to highlight them rather than flood every inch of your home with their repetition. A curated rug or professionally installed bathroom floor echoed two rooms away by an artfully displayed lamp or throw pillow with the same pattern makes a powerful statement that does not numb the senses.
Sustainable Design Fundamentals
Today's interior designers take the threat of climate change seriously and honor the desire of many to tread lightly on our vulnerable environment. An evolving and clear direction within the design industry is to invite the outdoors inside. Unlike earlier incarnations of this movement — think the highly regarded arts and crafts design of the first half of the 20th century — we see a few new twists.
● Biophilia Design
The biophilia hypothesis posits that humans seek connections with nature and other forms of life. The deliberate incorporation of native elements into your home is one way to achieve this link. Including organic components into home design, whether during construction, remodeling, or restyling, integrates living spaces with these natural materials and objects. Options are many and could include:
○ Using plants for aesthetics, bolstered by the ability some have to clean and filter the air.
○ Repurposing "found" materials like floorboards or other woodwork to support sustainable reuse and give your home a pleasing patina unusual in conventional construction materials.
○ Embracing wood, stone, and metals for a wide range of structural and decorative purposes.
Combining Technology with Nature
Taking the unification of manufactured and organic materials, a step further is the engineered environment trend. Using technological advances, objects previously tossed like plastic containers and used wood receives a second life as imaginatively engineered materials that perform as well or better than their components. Structural components to home furnishings are options today, with more sustainable items in development and production.