Is it time to ponder integrating unique and unexpected architectural elements or sourcing fabulous furnishings to infuse intrigue or energy to your home? Consider the following options curated by top interior designers sure to add the glamour or glitz, charm, or comfort your home can offer your deserving family. We suggest a progression. Begin with simple swap outs of accessories. Then make investments in furnishings or fixtures before committing to the time and expense for significant structural renovations.
Fiber Art Front and Center
Woven, knotted, and combined with other organic materials, wall hangings made of rope, twine, yarn, or other textiles claim a new pride of place in contemporary interior design after a few decades of decline. Neutrals, earth tones, and pastels create a serene feeling, while bright pops of saturated jewel-tone and primary colors create a festive and zesty vibe. Shells, wood, and metals enhance the works' dramatic textures and bring forth that wanted integration of nature and design. Invest in local artists' offerings or contemplate commissioning a piece of modern macrame that conveys your personality.
Savor Sinuous Shapes
Free your home decor from the traditional or routine with accessories featuring organic forms and shapes. Geometrics such as circles and triangles might dance in random succession across an area rug. Letters of the alphabet or chunky curves in coordinating or contrasting colors outline a quilt or throw. Standalone wall hangings sketch out a bold rendition of a single shape. Pillows, linens, and knick-knacks join in the fun, mirroring the shapes found in the other decor.
Fat Furniture Fix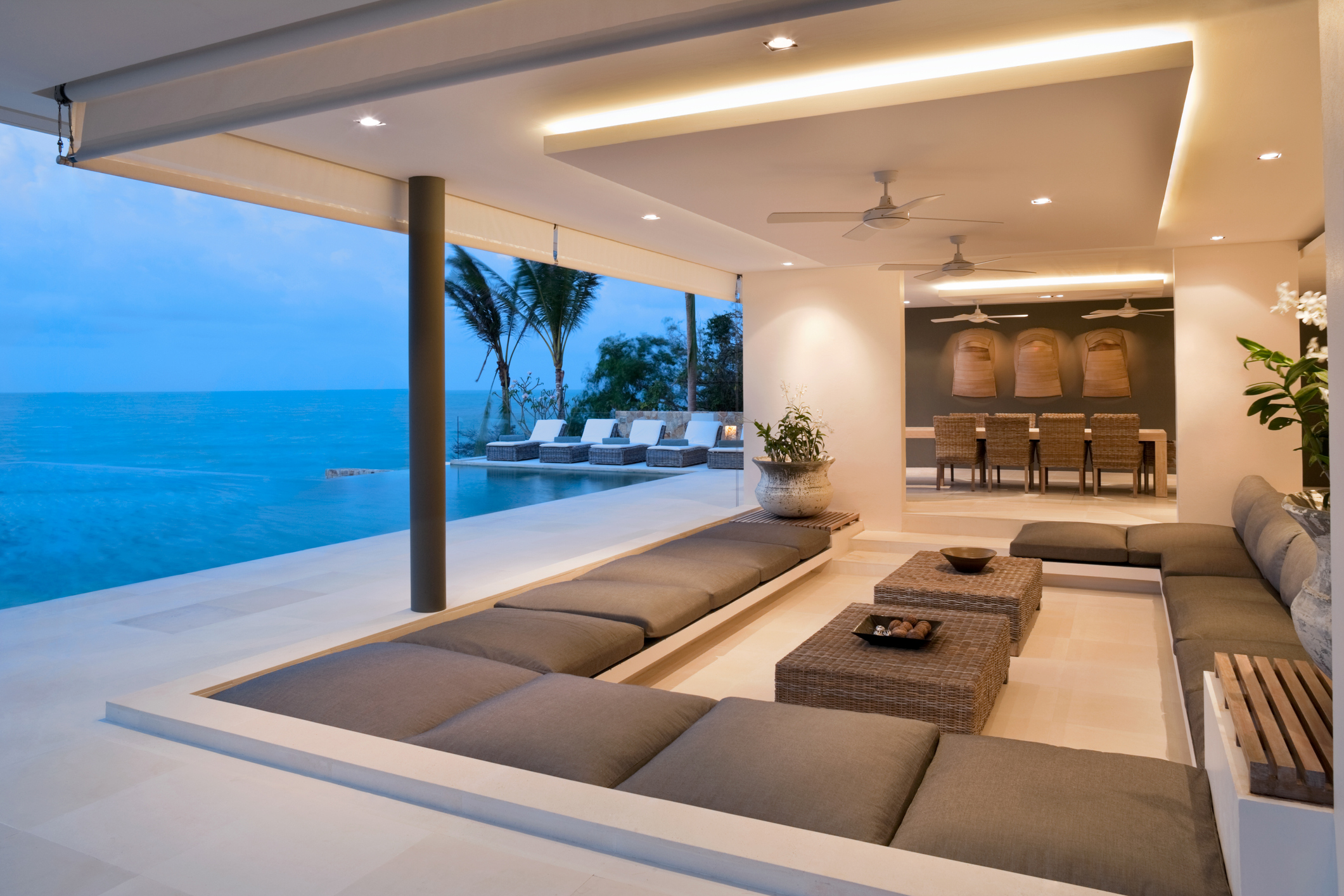 Exaggerated lines and plump, overstuffed arms, backs, and cushions are the height of upholstered furniture fashion. Welcoming and comfy, the fat furniture trend banishes stiff, austere, and frankly uncomfortable lines for chairs, sofas, ottomans, and sectionals that embrace those who settle in their luxurious curves. Snuggle in and relax solo or with family and friends on these soft yet supportive furnishings.
Contemporary Caning Configurations
Ancient as the reeds near a river bed, caning is a venerated way to craft study casual and formal furniture. Chairs, settees, and tables made of cane never go out of style, but innovative designers also seek out caning for cabinet fronts and consoles. Closely related are woven baskets, rugs, and runners made of organic materials like jute, hemp, and seagrass. Durable, beautiful, and sustainable, add richness and textures to your decorating scheme with these organic materials for fixtures and furnishings.
Trending Away from Traditional Tiles
Blocky subway tiles step aside. Assert your desire for a different design with contemporary statement tiles. What are statement tiles? Whatever you desire them to be. Artisans are excited to produce a plethora of bold, textured, and multicolored ceramic and other types of tiles. Why settle for the mundane when endless shapes and hues permit today's tilework to craft surfaces that rival classical or avant-garde artwork? Make a smaller and unnoticed space like a backsplash pop with bold tones and intriguing shapes. Flood a floor with fascinating tiled curves, angles, and gradients or contrasts. Welcome family and guests with a wall of undulating ceramic textures, heightened with carefully chosen colored highlights. Imagine a fresh look with statement tiles and count on professional designers to make it happen.
Wonders of Wood Paneling
Planks, strips, and slats, narrow to wide, offer endless opportunities for innovative designs in today's wood paneling. No longer relegated to the den or family room, think about installing wood paneling in every space in your home. Fascinating wood grains become even more eye-catching when applying paneling at angles. Stains and finishes allow customization while slat applications in baths or bedrooms create a calming, spa-like ambiance. Floor to ceiling or suspended installations can define partitions in a larger space while retaining the open feel to a room.
Bring the Garden Indoors
Creating fresh and vibrant living spaces in your yard is a trend many embrace. But inviting some greenery inside is also a welcome approach, even if your home does not boast a conservatory or sunroom. An indoor garden takes the odd dusty houseplant or potted herbs along the kitchen window sill to a new level. Find a space with generous amounts of natural light or room for specialized grow bulbs and plant your garden as you wish. The soil contained in a waterproof insert can support a range of plants and even small trees. Succulents populating a collection of artfully arranged rocks and sandy loam is a popular option. Indoor gardens provide a fresh perspective and can help improve air quality by removing some contaminants.
Structurally Integrated Seating
Romantic reading nooks and window seats are enjoying a renaissance in home design. Deep, recessed window sills fitted with comfy cushions continue as a constant in bedrooms but cutting edge designers broaden the concept of built-in seating. Handy ledges available in a home become a refuge to dream, craft, rest, or write when fitted with a soft surface to sit or lounge. Opening a designated seating area on a wall where one instead expects shelves or cabinets is a revelation. The integrated seating usually happily exists with any bookcases or drawers above or below.
Adding Arches
The throughways between residential rooms and spaces have, for decades opened up, supporting open floor plans with minimal structural obstructions. Archways were typical in homes built during the second third of the 20th century, dividing that period's bungalows into a series of connected but somewhat contained living spaces. As we spend more time at home, working, pursuing schooling and hobbies, and seeking a retreat from the world's stresses, structural components like arches are solutions. They allow people to thrive together while permitting some level of privacy. Clean and unadorned, the classic curves of modern arches reach both back and forward, as is common in timeless architectural detailing. New construction and remodeling plans include arches, the sweep of an arch, also repeating in hallways, cabinetry, and stairways. Not sure if you can commit to the cost of retrofitting your home? Try out arches in fixtures such as mirrors, wall hangings, and window treatments.